Established in 1970 and incorporated in 1977, Gulf Coast Marine Construction specializes in the coastal seawall construction services and is a design/build residential and commercial seawall contracting firm. As a pioneer in the industry of vinyl seawalls in Tampa Bay, Gulf Coast Marine Construction has revolutionized the seawall industry and has been the premier vinyl seawall construction company for over the past 15 years.
a seawall is an engineered improvement to the shoreline that creates a barrier between both land and water to prevent erosion and soil loss caused by the active fluid movement of waters by tidal changes, surfs, and storms. It is typically comprised of a structurally reinforced wall, reinforced concrete anchors and tie-backs, and a reinforced cap that secures the tie-backs to the seawall. In most cases, the current majority of seawalls on the waterfront have reached their maximum life expectancy and are on the verge of failing or deteriorating due to extreme conditions caused by the corrosive nature of saltwater, marine-borne organisms, and storms that take a toll on the waterfront community.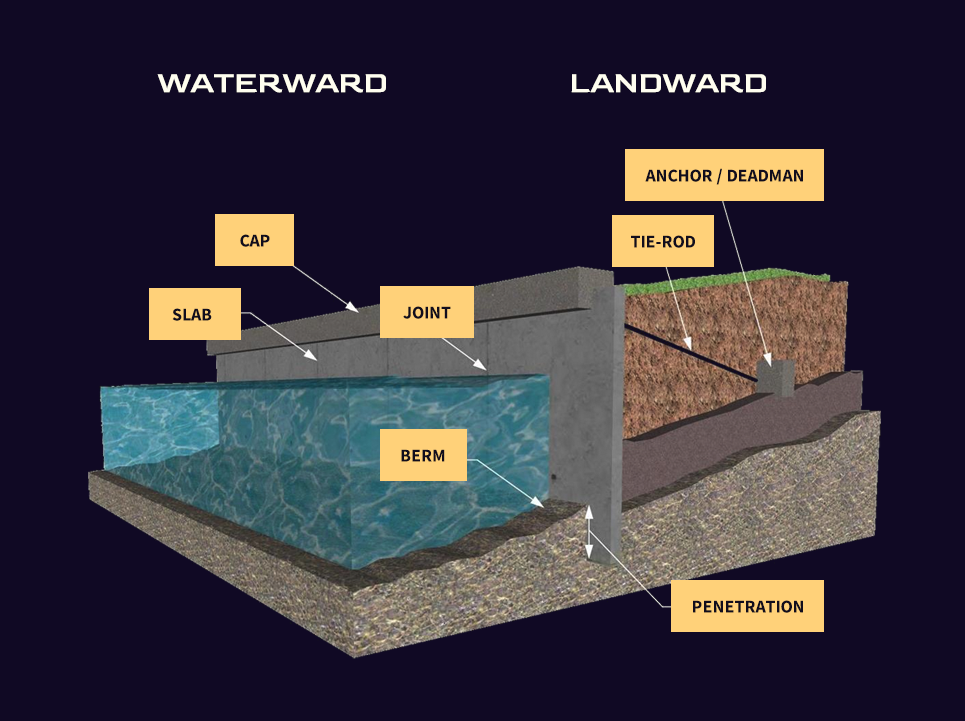 slab - The structural element to the seawall that divides water from land retains upland soils.
cap - The structural element to the seawall which ties the anchor/deadman to the seawall slab.
joint - The vertical joint between each concrete slab that also acts as a drain to allow hydrostatic water pressure to be relieved.
berm - The mudline waterward of the seawall.
Penetration - The amount of slab beneath the berm.
Anchor / Deadman - The structural element to the seawall that is buried landward of the slabs that secures the seawall in place.
Tie-rod - A steel rod that ties the seawall cap to the anchor / deadman.
Gulf Coast Marine Construction's staff with professional equipment operators and well-trained construction personnel offer extensive experience in engineered residential and commercial seawall construction in Florida. Our philosophy is that well-experienced engineers and construction personnel can evaluate complicated projects and then provide safe and economical construction solutions for those projects and seawalls using state-of-the-art materials and quality products that have helped us to revolutionize the industry.
It is very important when choosing the right seawall company and not a company that lacks experience. At GCMC, our experience reaches far beyond that of seawalls due to our extensive background in the marine construction industry. Our history includes, but is not limited to pile driving, reinforced concrete construction, foundation stabilization, earthmoving, dredging, dewatering, revetments, and bridge construction.
Our Vision = Quality
Our Mission = Commitment
"A commitment to Quality." We strive to provide our clients with the best quality solution by suggesting cost effective measures for their seawall while providing the insight to construction issues that may affect their project without cutting corners or costs. With this in mind, our clients are ultimately assured they'll be receiving a quality product.
At Gulf Coast Marine Construction, our goal is to provide our clientele with the highest level of satisfaction by constructing a superior product in quality, craftsmanship, protection, and value.
Since the 1940s, our reputation in building seawalls has been at the forefront of the industry in Pinellas County. It wasn't until 1977 that Gulf Coast Marine Construction was incorporated, making it part of a second generation marine contractor. Over thirty years later and still in the family, GCMC is now a 4th generation family marine contracting firm specializing in the construction of seawalls. We consider every project as an opportunity to reinforce our excellent reputation for thorough planning, accurate budgets and an outstanding safety record.